For Immediate Release
April 11, 2022
For more information:
Merrie Monarch Festival Office / 935-9168
59TH ANNUAL MERRIE MONARCH FESTIVAL
The Merrie Monarch Festival would like to inform residents and visitors of upcoming road closures to occur during the festival on April 20-23, 2022. Beginning Wednesday, April 20 at Noon and continuing on a 24-hour basis to Saturday, April 23, 2022 Kalanikoa Street between Piʻilani and Kuawa Streets will convert to a one-way traffic pattern (Northerly-Hilo bound). Normal traffic pattern will resume on Kalanikoa Street on Sunday, April 24, 2022 at 8:00 a.m.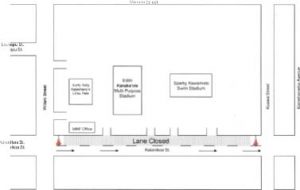 On Saturday, April 23, 2022 at 8:00 a.m. to 3:00 p.m. Kamehameha Avenue between Waianuenue Avenue and the State Fisheries Research Station driveway in both directions will be closed for the 59th Annual Merrie Monarch Festival Royal Parade and staging area. Please be advised that the parade route closure will begin at 10:00 a.m. The parade route will start from Piopio Street, left on Pauahi St., right on Kīlauea Ave., continuing onto Keawe St., turning right on Waianuenue Ave and right on Kamehameha Ave ending at Bishop St.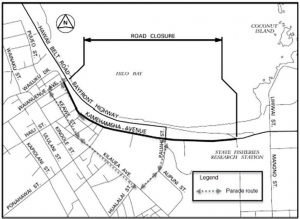 The Merrie Monarch Festival would like to mahalo everyone for their cooperation and attentiveness to lane closures and traffic restrictions during this time.
Click to download PDF Printable version