New Broadcast Partner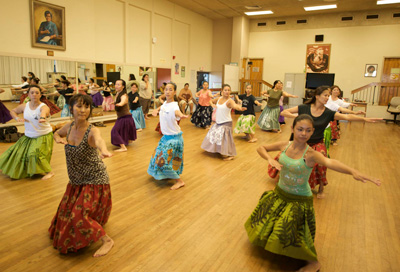 Nå Pualei O Likolehua rehearsing for 2010 competition
Recently, the Merrie Monarch Festival announced changes in the statewide, televised coverage of its hula competition. The high definition TV broadcast event is moving to KFVE (channel 5). This year's hula competition, scheduled for April 8-10, 2010, will continue to be held in the Edith Kanakaʻole Stadium in Hilo, Hawaiʻi, and the festival organizers are humbled by the competition's distinction of being the most-watched, longest-running local TV program in Hawaiʻi.
The competition segment of the weeklong festival was first televised on KITV (channel 4) in 1981 as a public service program. Since then, the TV show has emerged from its modest beginnings to become an international vehicle for Hawaiian culture. For many hula fans, the live telecast is an annual tradition that can now be followed worldwide via live Internet streaming and distributed DVD's.
"We are truly grateful to KITV for helping us share the beauty of hula for the past 29 years," says Luana Kawelu, President of the Merrie Monarch Festival, "and we now look forward to building new relationships with KFVE to perpetuate Hawaiian culture and the festival as both continue to grow and thrive."
Mrs. Kawelu's mother, Dorothy "Aunty Dottie" Thompson, the festival's Executive Director, took over the leadership of the festival in the fall of 1968. Three years later, with the help and guidance of respected cultural and hula experts, Aunty Dottie initiated the hula competition, which has steadily gained in popularity over the years. With its emphasis on hula, chant, Hawaiian language, and arts, the Merrie Monarch Festival has strived to contribute to the public's growing awareness of Hawaiian culture.
"By perpetuating our traditional hula and chants, we honor the Merrie Monarch himself, King David Kalākaua, who was instrumental in reviving the hula during his reign," says Mrs. Kawelu.
"E Ola Mau Kona Hoʻoilina. His legacy lives on."
"We are honored to be the new broadcast home of such a prestigious and important local event," said John Fink, General Manager of KFVE.
"Over the last quarter century, the KFVE team is proud to have showcased great local events, such as University of Hawai'i sports, Na Hoku Hanohano Awards, Sam Choy's Kitchen, Heineken Hot Hawaiian Nights, and other special programs. We look forward to respecting the traditions of the Merrie Monarch, and being a part of the festival in the years to come."