Boxes of ticket orders are mailed back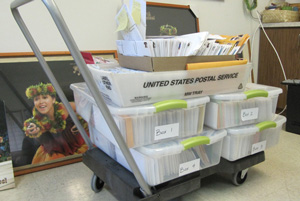 Ticket requests to be mailed back to senders.
The Edith Kanakaʻole Stadium is sold out again!
In February, boxes of ticket requests for the 2010 Merrie Monarch Hula Competiion were sent back to disappointed hula fans. "We wish we could seat more people, because there is such an appreciation of our Hawaiian culture and the hula," says the festival's President, Luana Kawelu. "Ticket requests come in from all over the world."
With approximately 4,200 available seats, tickets are in high demand. And, the crowds that flock to Hilo, Hawaiʻi provide a huge boost to the Big Island economy with busy airports, hotels and restaurants.
"Every year we are swamped with requests for tickets," says Kawelu, "and we try to be as fair as possible."